Professor of Adult Clinical Genetics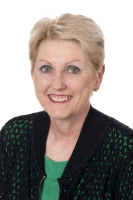 Position

Professor of Adult Clinical Genetics

Affiliation

The University of Melbourne and The Royal Melbourne Hospital
Bio
My career has combined clinical practice, biomedical research and translation of research into practice and policy. I am a clinician scientist in Clinical Genetics, Cancer Genetics and Dermatology. In 2006, I was appointed as Inaugural Chair of Adult Clinical Genetics at the University of Melbourne and the Royal Melbourne Hospital. At this time, I was also appointed Melbourne Health's Executive Director of Research; during my 12-year tenure I was able to enhance the embedding of research into clinical practice in this large academic teaching hospital.
While I work across many domains within clinical genetics, my research interests have focused on colorectal cancer (CRC), especially the potential for CRC prevention. I have used knowledge generated by our and other's research to optimise state of the art clinical genetic services in adult medicine, with a focus on familial cancer. I have worked for > 20 years through the international Colon Family Registry. I am the PI of the NHMRC-funded study on Sebaceous skin lesions and Muir-Torre syndrome.
As a practicing clinician, I provide academic and clinical leadership in the inherited cancer clinics for > 30 years. I serve/ have served on multiple high-level committees within Australia, and Victoria, which places me well to translate research findings into practice and policy. These have included the Victorian Cancer Agency, where I previously chaired a working group on cancer prevention. I served on the Victorian Cancer Action Plan Implementation Committee. I developed the original Special Interest Group for Cancer Genetics for the Human Genetic Society of Australasia, having previously chaired their Committee for Cancer Genetics. I have been on the Steering Committees and currently on Clinical Research Advisory Committee of the Victorian Comprehensive Cancer Centre. As past chair and initiator of the Victorian Hospital Research Directors Forum, I have been a frequent spokesperson for clinical and translational research. I served on the Steering Committee for the Melbourne Genomics Health Alliance (2013 to 2019). I am a Director of the Boards of the Australian Genome Research Facility and Global Variome. I am Chair of the Australian Health Ethics Committee, a member of the NHMRC Council and until recently, was a member of the Health Research Strategy External Advisory Group for New Zealand. I continue to serve on Boards, following 10 years as a Director of the Walter and Eliza Hall Institute, and a member of the inaugural Peter Doherty Institute Council.
I have been successful in attracting research collaborations. My funding record ($75,341,058 as an Investigator) and publication list (> 230) demonstrate the pivotal role I play in clinical and translational research. I continue to lead the innovation agenda within the hospital sector. I am principle investigator of the Victorian Health Accelerator Network (VHNx), a novel system of hospital-based accelerators within an innovation ecosystem.
In 2020, I was appointed Officer of the Order of Australia (AO) for 'distinguished service to medicine, particularly to clinical genetics and research, to cancer prevention, and as a role model and mentor.'